Admiral Markets proudly presents the ultimate MT4 plug-in – MT4 Supreme Edition. This powerful plug-in features the following ample conveniences and performance-enhancing tools:
The Mini Trader which simplifies and enhances order creation in a neat and compact window
Trading Terminal which uses the Mini Trader terminal across multiple currencies all conveniently placed in one window
Alarm Manager to alert you to important events as per your preferences
Correlation Trader which will aid you in taking advantage of correlated pairs and / or avoiding the risk
Correlation Matrix, which shows the correlation between all currency pairs
The features to the plug-in are extremely powerful and guarantee an enjoyable and productive trading experience. Best of all, although powerful and very thorough, the tools are extremely user-friendly and easy to understand. This plug-in is an absolute must for any experienced or aspiring trader. Within mere moments you could have the plug-in attached to your MT4 and expanding your trading horizons to great new heights.
Not only does Admiral Markets already offer some of the best spreads on the market, but unlike others we prove it too! Besides the performance enhancing aspects and in an effort to be as forthcoming as possible, MT4SE includes a spread indicator, you will be able to see the spread at all times even before opening a live account with us. Honest and transparent trading at its finest.
Supreme Edition Tick Chart Trader
Tick Trader is an innovation that will definitely amaze by its efficiency and is certainly able to enrich your trading activities! The functionality of the Add-On is truly versatile: extra-fast order placement, various chart styles and even downloading tick data right to your PC! You will get the most out of it in fast market conditions when your trades need to be executed in a blink of an eye. Designed specially to meet the needs of active day traders and scalpers!
Tick charts: Admiral Markets is the first provider of exceptional real tick charts in MT4
Multi monitor experience: open as many tick charts as you wish and move them around your screens, they are detached from platform!
Combined features: you can run several Mini Terminals on the top of several tick charts!
Ultra-fast trading: use keyboard shortcuts for placing orders or closing your trades
Various chart styles: choose what fits you best
Downloadable ticks: now you can collect tick data and store it on your PC!
Detailed specifications of each included feature you will find in this manual.
The trading functionality of the Add-On is designed for people who want a quick entry/exit in trading. In Mini Terminal, you can place orders in a blink of an eye using a mouse and even faster with a keyboard!
For quick order entry you can click on the Bid and Ask prices (Sell and Buy orders respectively) in the bottom-right of the app. For extra-fast entry / exit, use the Ctrl key + one of the action keys (B - Buy, S - Sell, C - Close).
Please note: Hedging through the Tick Trader is not allowed. For example, if you place a Buy order and then a Sell order, then the Sell closes the previous Buy.'
Tick Charts are available in a variety of styles:
Feel free to collect tick prices! The tick chart is activated as of starting the application and by clicking 'Download' button you will get the entire available tick history for the selected symbol, such as the date, Bid and Ask prices.
To learn more about the features available within the Supreme Edition please browse through each of them below
Place orders quickly and efficiently through the professional trade execution and analysis tool - the Mini Terminal. Set your, Trading Volume, Trailing-stop, Stop-Loss, Take-Profit and create orders through a clean and compact tab which also displays the direction of the most recent market movement.
A neat minimalistic view which displays the direction of the most recent market movement.
1-click trade management for fast and precise Trading shown on the chart.
Compact on chart trading with options to set Stop-Loss, Take-Profit and Trailing-Stop with ease.
Advanced features such as a 'reverse' button to immediately close a trade and open the same position in the opposite direction and a 'panic' button to close all positions with a single click.
Save trading templates to place orders as fast as possible.
Configurable settings to confirm quick-buy, quick-sell and close-all.
Dock and undock the window and the chart for convenient trading, trading is possible even while MT4 is minimised.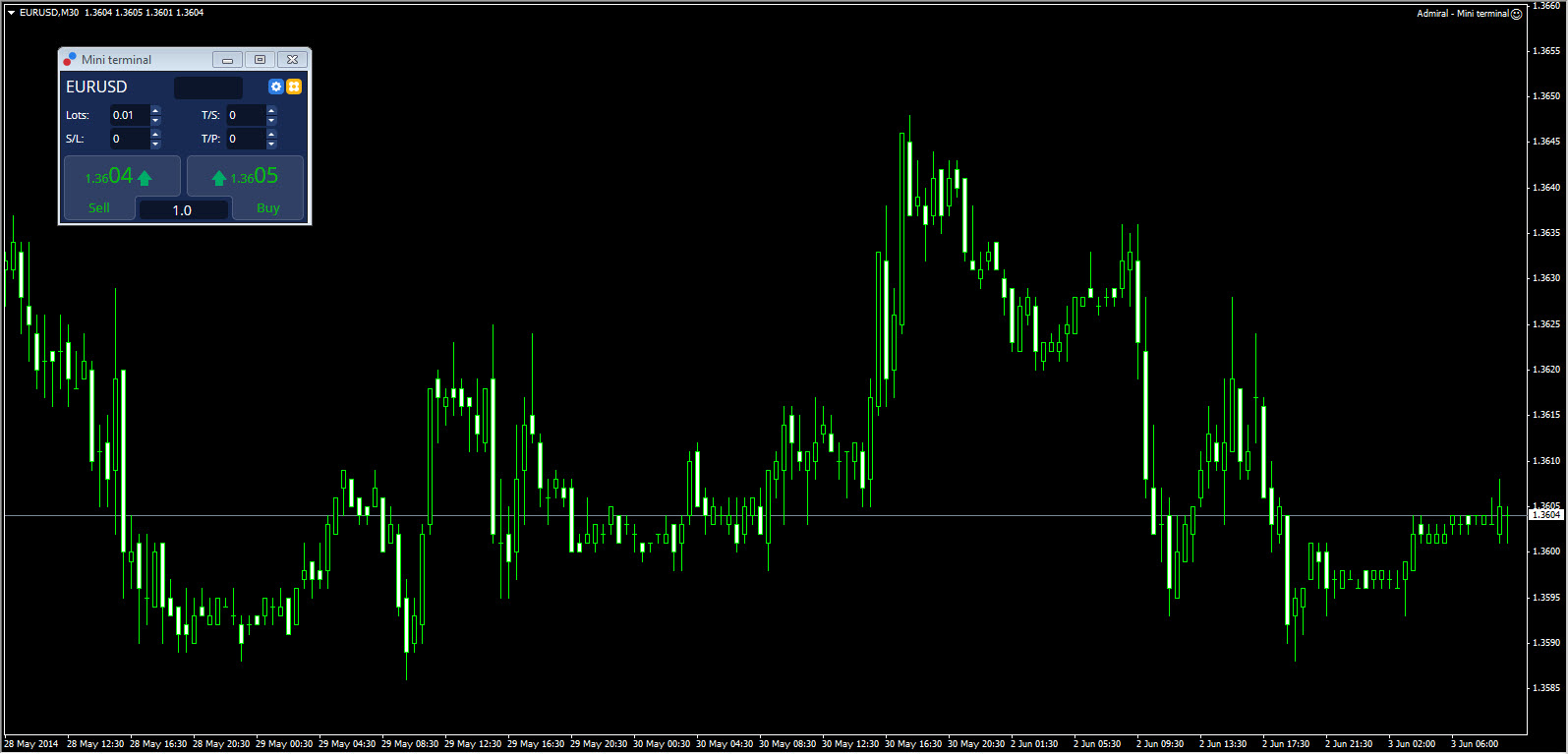 The trade terminal allows you to place multiple instruments orders at the same time. Once again a simple and compact view with all of the same features as the Mini Terminal and spread across multiple instruments.
Trading precision: 1-click trade management for each symbol for fast and precise Trading
Trade Calculators: calculate the stop-loss for a specific cash risk.
Opening trades: quickly open market, pending and OCO orders and create templates for frequently-used or complex order preferences
Closing trades: the ability to close trades on an individual, selected or all-trades basis. Quick partial-closes and reverse positions.
Editing trades: modify stop-losses, take-profits and trailing stops.
Automated closes: set up rules to close or scale out of future positions based on profitability or price (e.g. when you are 20 pips in profit, close 50% and move stop to break-even)
Analysis functions: quickly analyse individual, selected or all trades by various parameters including symbol, direction, winners, losers, trade duration etc.
Alarms: enables all positions to be closed if certain key account limits are triggered.
Set the Alarm Manager to keep an eye on important events for your account. The event manager will notify you when important events occur and even take action on your behalf based on your preset preferences. By working with your strategy and taking valuable time off your hands you will have more time to analyse the market and contemplate your future moves.
Account alarms: for changes in key account parameters, e.g. margin, balance, profit, loss, equity, consecutive wins and losses etc.
News and Sentiment alarms: triggered by calendar events or by material changes in the live market sentiment
Trade activity alarms: to notify about newly opened or closed trades, floating P&L on individual trades and identifies trades without stop losses etc.
Price alarms: triggered by changes, levels and breakouts in price
Technical Indicator alarms: based on changes in technical indicators such as ATR, Bollinger Bands, Moving Averages, MACD, Swings, Stochastic, RSI, etc.
Time alarms: to set stop-watch and time-of-day alarms
Actions available upon an alarm being triggered include:
Notifications: send (or broadcast) via twitter, SMS, E Mail messages, pop up alert and audible alarms
Orders: place new market or pending orders
Trades: close some (e.g. all winning or losing EURUSD trades) or all trades
Other: open a web page or send a web request
With the Sentiment Trader you will be able view the current and historic collective mind-set toward a particular trading instrument.
Shows current sentiment, historic sentiment plotted against price, and also any open position in the selected symbol
Configurable views of current sentiment: pie chart, gauge, dial
Configurable views of historic sentiment: candles, lines, etc.
List of all available symbols including current sentiment and any open position
Open and close orders including placing stop-loss and take-profit in both hedging/non hedging mode
As one currency rises, another will fall. Correlation between currency pairs can often have the same effect, currency pairs may statistically influence each other. The Correlation Trader enables you to check out the price correlation between currency pairs with ease. Avoid multiplying your risk from entering into several positions over correlated pairs and in addition, avoid opening the same position on currency pairs that are known to move against one another.
Comparing selected markets
Comparing selected timescales
Open and close orders from the application, including stop-loss and take-profit in both hedging and non-hedging mode
Close all functions for each symbol
Display of current lot size and net profit for each symbol within the application
Includes a roll over display of individual bar data
The Correlation Matrix provides invaluable and in-depth market information across all currency pairs in different time frames. This will enable you to make informed decisions to significantly mitigate the risk involved when planning your trading. Set the timeframe (M30, H1, etc) of your choice, set the bars for the period of you would like it to analyse and review the correlation between currency pairs. As you can see by the screenshot over a H1 timeframe for the last 200 hours AUDUSD shows very little correlation while EURUSD shows extremely high correlation.
Display symbols based on selection
Display the correlation time period ranging from 1 hour to 1 week based on selection
The number of bars to include (25-1000) based on selection
Choose different correlation displays, e.g. strong, medium, or weak market correlation
Trade list – select preferred markets to trade and see their combined correlation characteristics
The Session Map is a tool which displays the current trading session, which currencies will experience the most activity, important announcements and the level of impact they will have on the market. You can use this feature to plan your daily trading activity and analyse strategic moves based on high impact events.
Displays the world's main markets with a time-line reflecting the trader's local time
Markers for future calendar events, colour-coded to indicate their impact
Information about price movements during each completed or current market session
Account information including floating profit and loss and margin usage
Get the latest news straight to your platform, select and combine any RSS news feeds. With the Connect feature you will be able to filter news to your preferences. For instance, if you would like to see articles about EURUSD or GBPUSD or both and exclude everything else, you will be able to filter out any unwanted results. Additionally you will have access to a built in economic calendar and be able to set alarms for both news and important future events.
Select and combine any RSS news feeds and build a personalised news Service
Set filters on the news feeds (e.g. only display articles about GBP/USD) and set alarms for when new stories are released
View an economic calendar which features the ability to set alarms on important future events
The Market Manager is the ultimate tool to complement any style of trading over multiple currencies. See the bigger picture and review, open and close multiple trades in one window. Additionally, you can isolate the table to display only open trades and pending orders, watch a specific currency and its pairs and get an overview of your account info which includes account balance, equity and margin in use.
Symbol management: select, name and save preferred symbol sets in convenient groups and recall and display individual groups immediately irrespective of how they are displayed on the trading platform
Symbol information display: for each symbol, the symbol information screen displays a market overview showing a snapshot of market movement within the last 5 days, 24 hours and 60 minutes and market highs and lows during those periods. In addition, trades from this window also display the total market position and net profit and loss for all trades
Quick trade functions: trade from the Market Manager and open market or pending orders (with or without templates) and close positions including the option to 'close all' for individual symbols
Fun fact, the trade in this image was placed with the aid of the Correlation Matrix and Correlation Trader on a highly negatively correlated pair and resulted in a 60 pip profit!